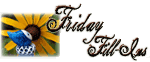 So…here we go!
1. When pigs fly … BABES WOULD BE ANGRY! LOL!
2. DO PIGS REALLY FLY? seriously?!
3. Call me WHEN THERE'S A PARTY.
4. SMILE AND NOD.. if you know what I mean.
5. The most entertaining person in my life is OF COURSE MY HUBBY because HE HAS A VERY GOOD SENSE OF HUMOR… HE SINGS..DANCE… & PLAY ANY MUSICAL INSTRUMENTS!
6. _____ who's next?
7. And as for the weekend, tonight I'm looking forward to OUR LIGHTHOUSE GATHERING, tomorrow my plans include COOKING MY FAVORITE MONGOE DISH and Sunday, I want to SEE MANNY PACQUIAO KNOCKED-OUT MAGARITO ON THE 1ST ROUND!