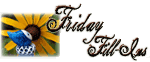 and…here we go!
1. Oh gross! I thought it was JUST A JOKE WHEN I RECEIVED A TEXT REGARDING JAPAN'S TSUNAMI.
2. PRANK JOKES? well THAT's off my bucket list!
3. No, IT WAS INDEED TRUE WHEN THE ONE WHO TEXTED ME GAVE A LINK TO THE NEWS.
4. I AM PRAYING FOR JAPAN AND TO ALL NATIONS IN THE PACIFIC… heart and soul.
5. And then I WAS REMINDED THAT THE END OF TIMES IS HERE ALREADY.…
6. I can't forget THAT OUR LIVES HERE ON EARTH ARE JUST TEMPORARY .
7. And as for the weekend, tonight I'm looking forward to SPEND TIME PRAYING WITH OUR CELL GROUP, tomorrow my plans include _____ and Sunday, I want to GO TO CHURCH AND REJOICE OVER MY ANSWERED PRAYERS!